If you are beginning in film photography or if you want to begin in, you are in the right place. Today, we will talk about how to start it by choosing your camera, your roll, and how to load it to be able to take your best pictures!
1- Use a suitable camera
If you don't already have a film camera, the first step is to get one. Without it, it may be a little more complicated to take picture 😅. For photography beginners, and more broadly, if you don't know how to deal with shutter speed, aperture and ISO sensitivity, I strongly advise you to take a recent camera. Those which have been created after the 90's include many electronics assistances, that will be a lot easier for you to begin.
2- Choose your film roll
The second step is to choose a film roll. Every film is different and create a specific result. Like you probably know, there are black and white and colors films. But each of them has his particularities. Some create a high contrasted result, some have a lot of grain, some can be used by low light situation. It's up to you to decide according to your budget and your preferences. For more details, I even did a full article on how to choose your analog film roll?
However, if you are starting in film photography, stay in the cheapest ones. Because you can't immediately check your photography, you can't know if your pictures are great or not before the end of the roll. The firsts films you will use can contain some mistakes. And failing a cheap roll is better than failing an expensive one. You should be able to find films for less than 5€ at many specialized retailers. But don't worry, despite their very low prices, these are not less qualitative than the others.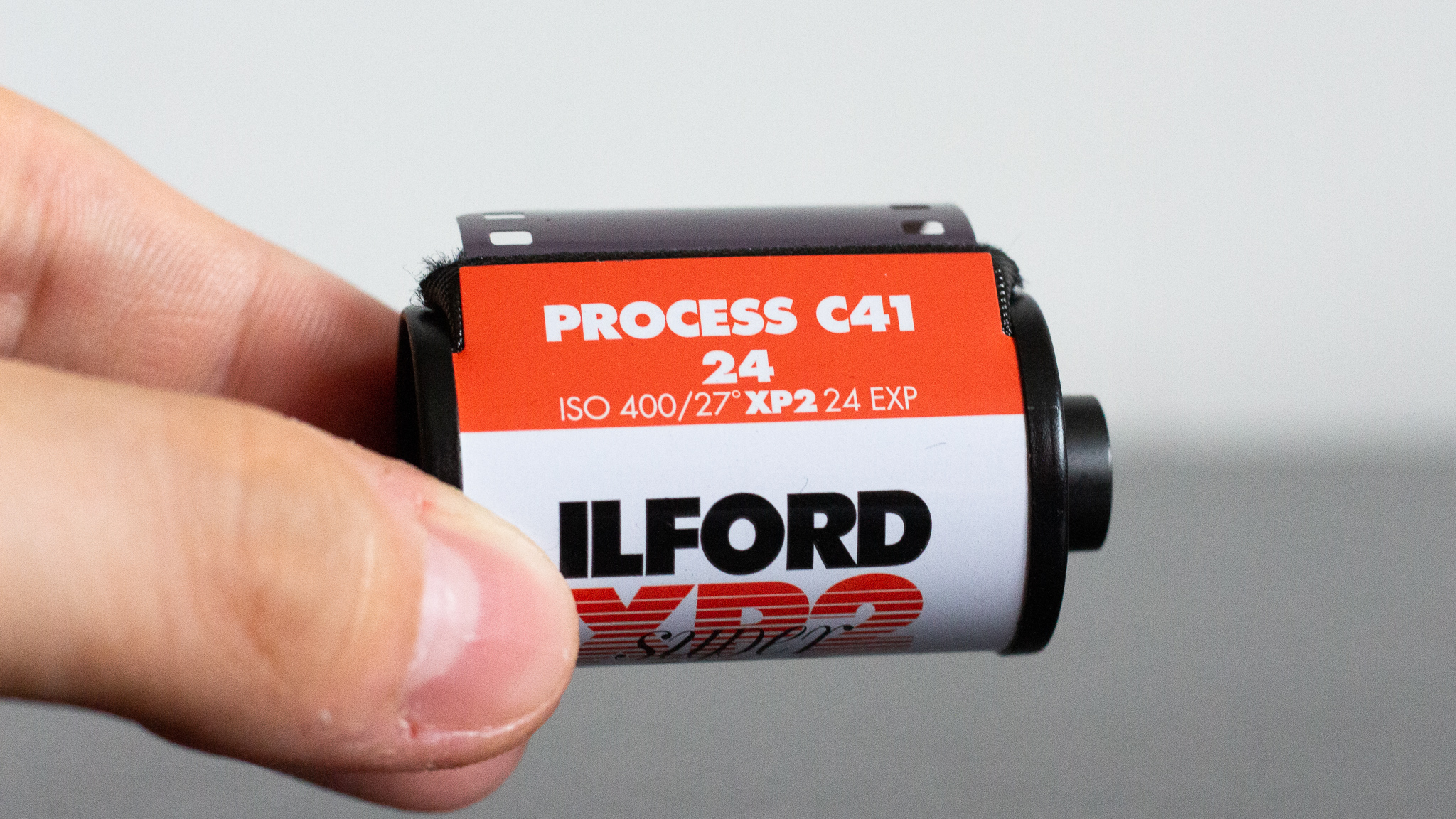 The main thing is to choose the right film size for your device. A quick search on your favorite search engine will give you the information. Most of the cameras use 135 films (also called 35mm). These can be found almost everywhere, whether in specialized stores, in a photographic laboratory or on internet. You can even still find some of them in supermarkets, but you won't have as many choices.
If your camera doesn't use 35mm films, it may be using 120 films. These will be a little more hard to find. Forget the supermarkets, but you can still find them without any difficulty in specialized stores or online. If you are looking for another film type, it will be more complicated. Most of the uncommon sizes are no longer manufactured. But for the cameras that use 620 films, you should know that this is possible to make a 620 film by yourself from 120 roll, a little search on internet will tell you how to do it.
3- How to load a film roll in an analog camera?
Now that you have your camera and a film roll, it's time to open the back cover to place it. Usually the opening is done by pulling on the film rewind knob located on the top of the device. On some camera, this can also be done by pushing a button on the left side of the device. Once the back cover is open, it's time to put the film in place.
If your camera has a film rewind knob
If your camera has a film rewind knob, leave it up, otherwise the film may refuse to fit in your camera.
Place your film in the space provided for this purpose, right under the film rewind knob. Usually it's on the left side, but on some camera it can be on the other side. To do this, put the film leader towards yourself, and insert the film roll into your device. Once it's in place, You can now lower the film rewind knob to maintain it correctly.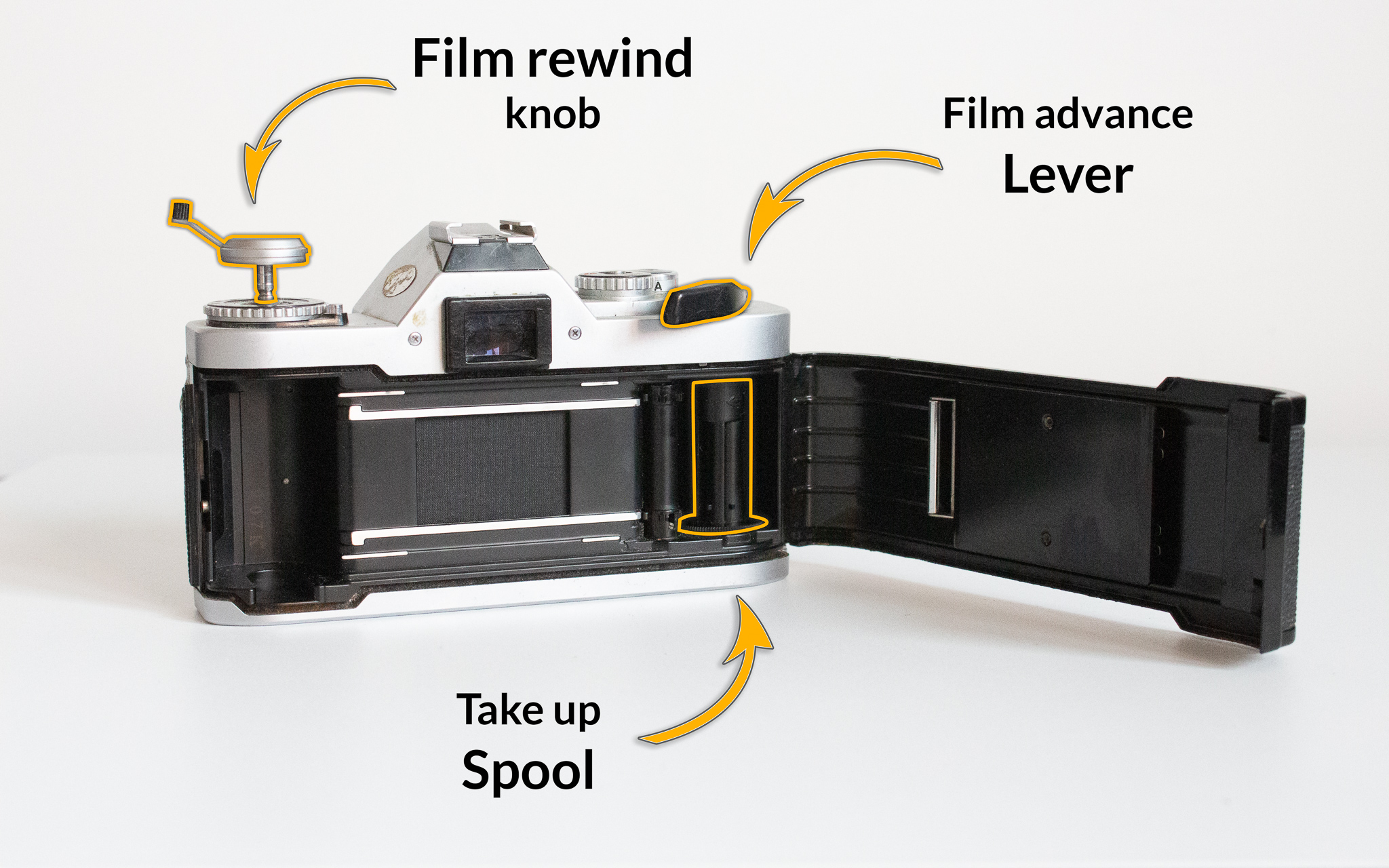 All that remains is to pull the film leader to the opposite side of the camera. Place the leader into the take-up spool, and gently pull the film advance lever to check if the film is correctly in place. If it's properly placed, the film should stretch slightly and not pull away from the take-up spool.
If it's good, everything is now ready. You can close the back cover of the camera. You have now to take pictures until the photography counter indicates "0". This will move the part of the film that was exposed during its installation. Generally, you have to trigger 2 or 3 times.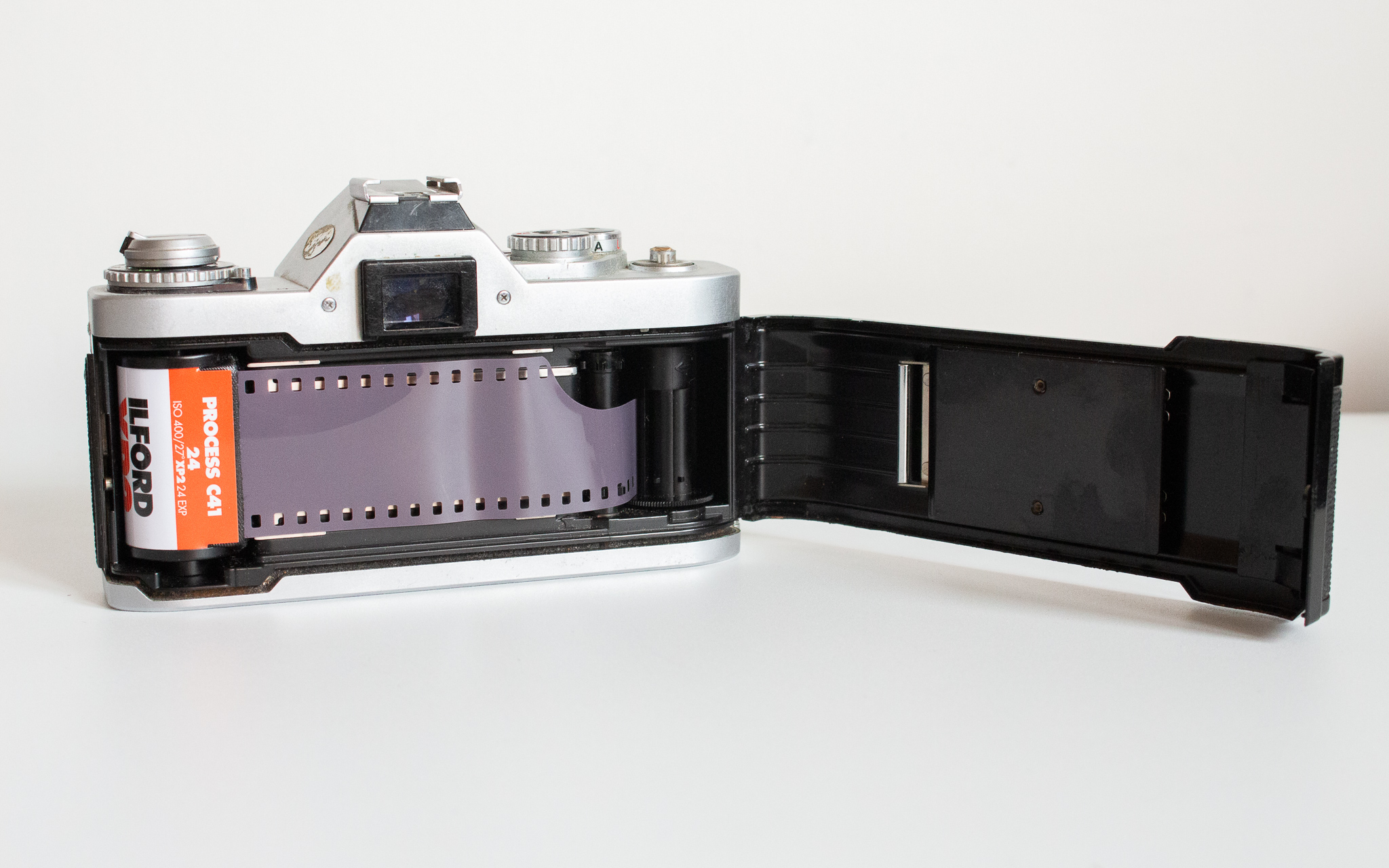 If your camera has an electrical film rewind
If your camera does not have a film rewind knob, it means that the film is electrically advanced. For this kind of camera, the manipulation is very similar.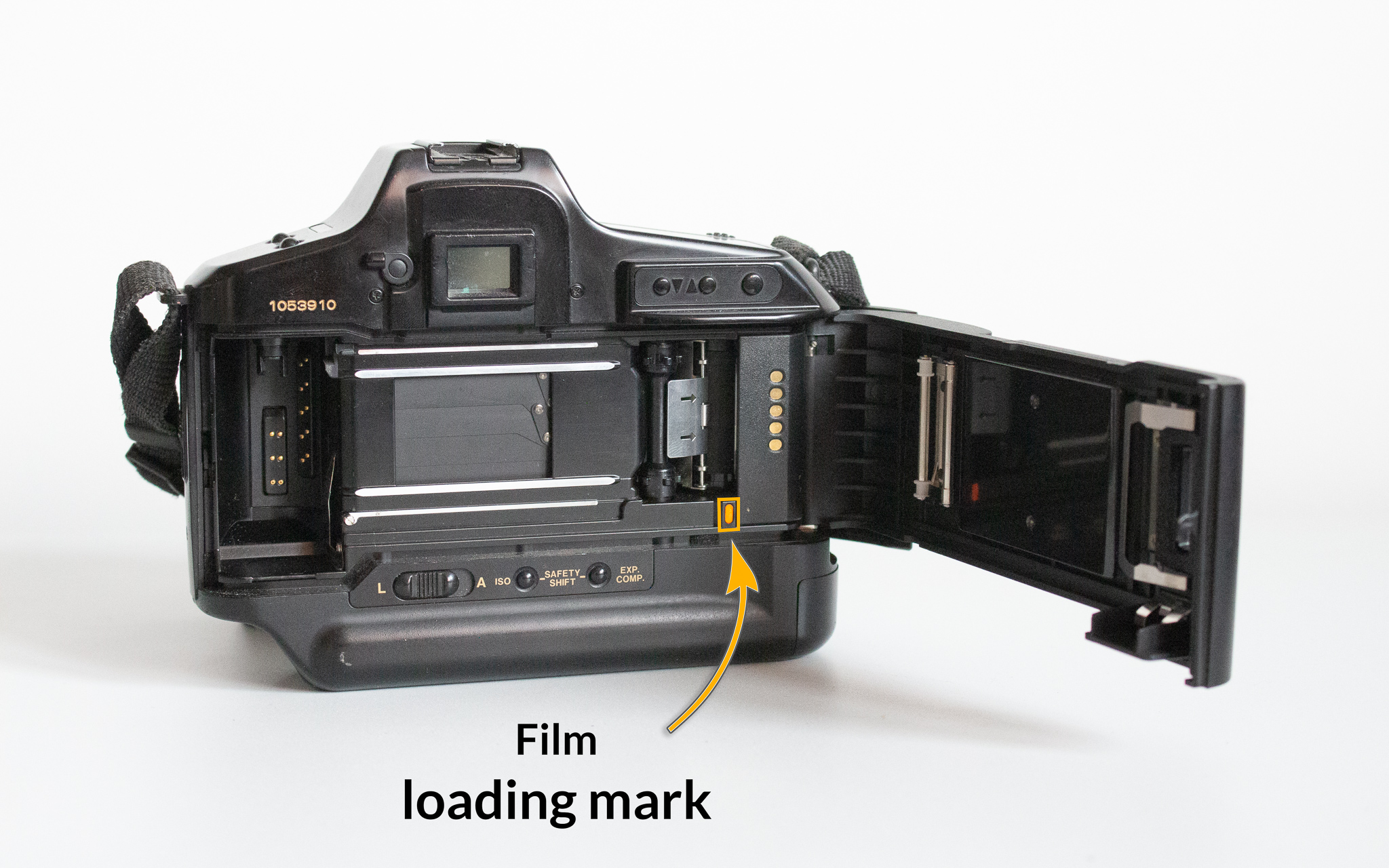 Place your film in the space provided for this purpose. Usually it's on the left side, but on some camera it can be on the other side. To do this, put the film leader towards yourself, and insert the film roll into your device.
Once it's in place, pull the film leader to the opposite side of the camera. A small mark indicates the point where the leader should be pulled. In most of the cases, this is a colored marker or an arrow.
Once this is done, you can close the back cover. When you turn on your camera, it should advance the film itself to the first picture. If not, it's up to you to trigger until the photography counter show "0", which means that you are ready to take your first picture.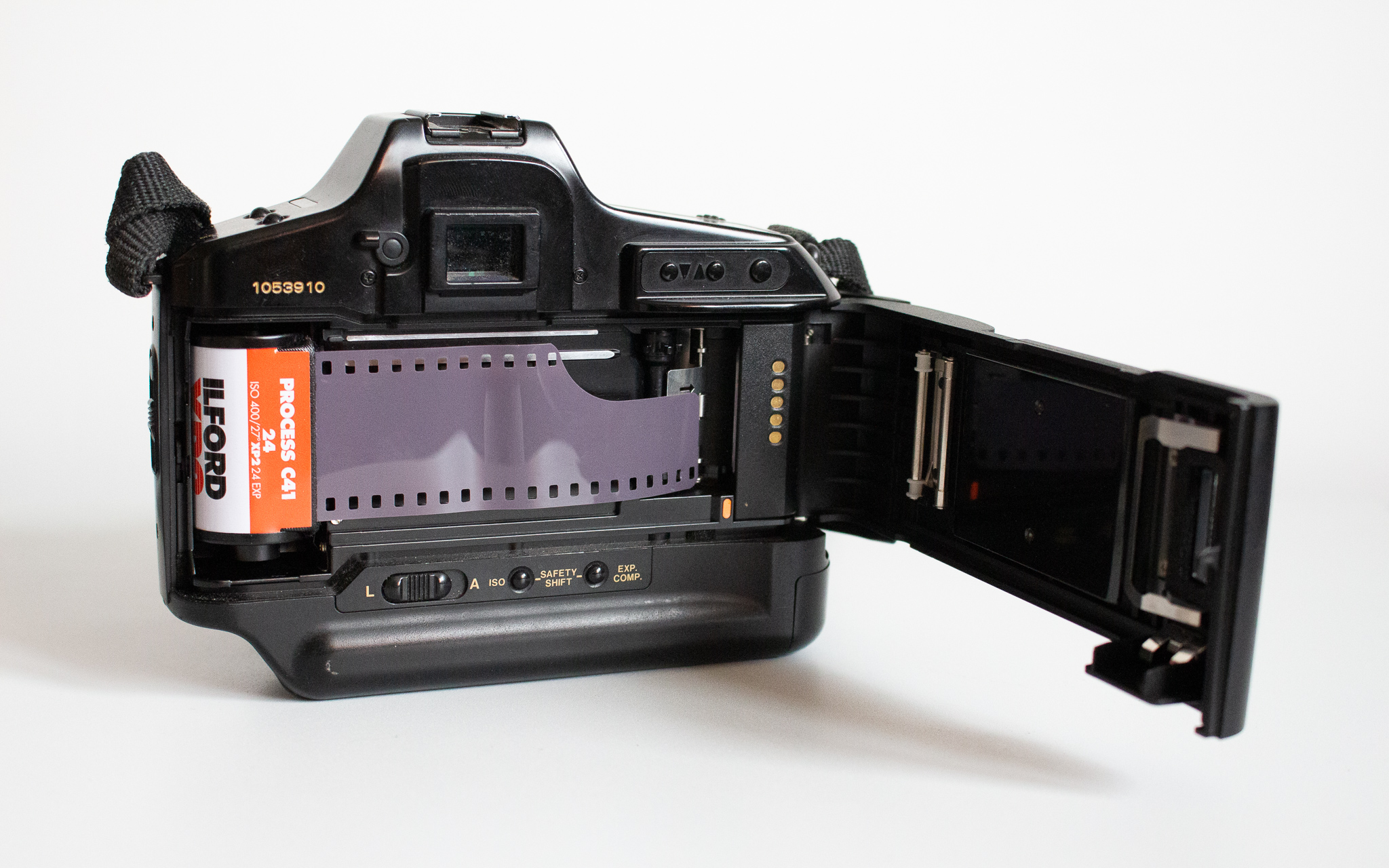 4- Do NEVER open the back cover when a pellicule is started
It seems logical for some people, but it still a very important information. Once a film roll is loaded into the camera, it's important to NEVER open it until it's fully rewound. Otherwise, you will loose all of your pictures by exposing the film to light.
5- Have fun and take pictures!
The film is properly loaded, your camera is now ready. It's time to get out, see friends and family, and take pretty pictures with wonderful memories!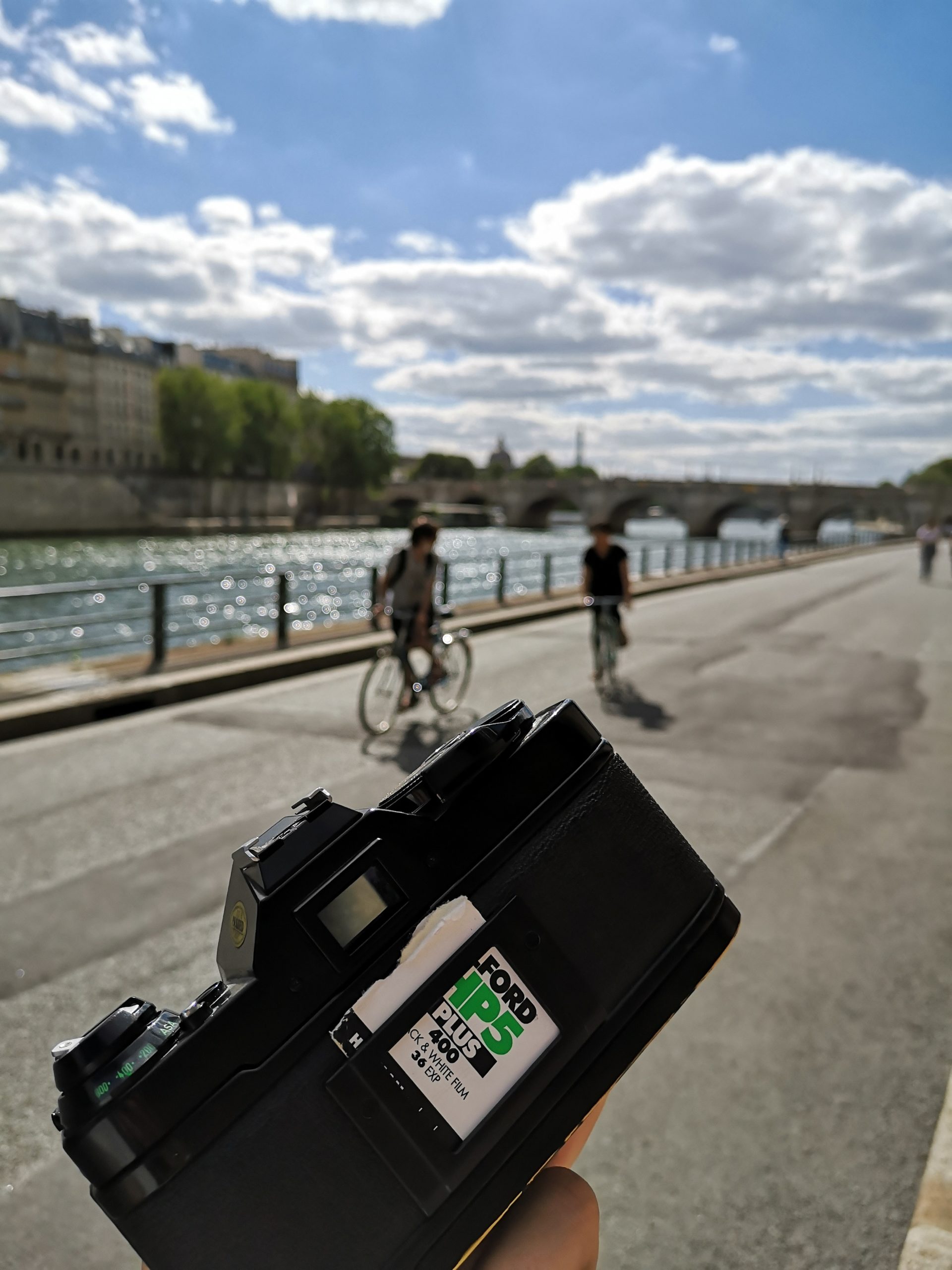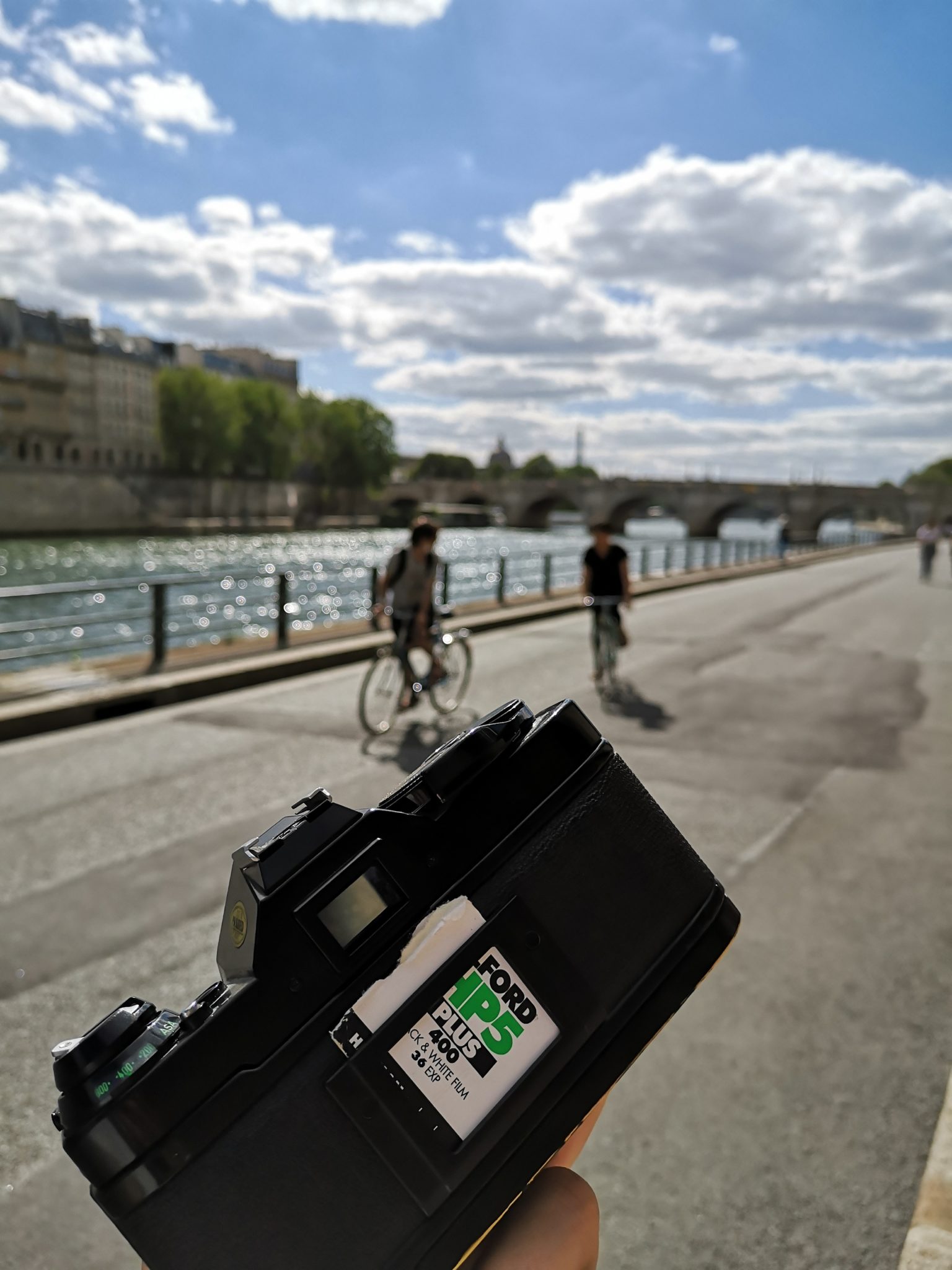 6- Rewind the film roll
With an electrical rewinding
For the lucky ones who have a modern device with an electrical rewinding, it's super easy. Your film roll is finished when your camera can't advance anymore the film. In some case your camera rewind it automatically when you take the last picture, if it's not, a button will make the camera rewind it for you.
With a manual rewinding
If you have a film rewind knob, you have to rewind you film roll manually. Your film roll is finished when you can no longer advance the film. Before starting to rewind your film, you have to press the rewind release button (in most of the camera manuals, it's called "rewind button" or "release lever"). It's usually located under the device. It will allow you to unlock the advancement mechanism to be able to rewind the film without damaging your pictures.
You now have to turn the film rewind knob, you will feel the film get back in the film can. After you've done a many turn, you should hear the sound of the filme leader going back into can. Suddenly, the film rewind knob becomes super easy to turn. It's the sign that all of the film is now inside the can.
Get your exposed film roll
When the film is completely rewound, your photos are safe inside the film can. You can now open the back cover of your device to retrieve it!
7- Store your exposed films rolls
Once your film is exposed, it becomes very sensitive and needs to be stored with care. If you develop your film roll within a month after using it, you won't have any problem. Simply store it in a dry place, away from light. A cupboard or a drawer can be great.
If you want to keep them for several months before developing them, it's better to store them in a cold place. To do this, enclose them in a protective case and put them in your refrigerator. By doing this, you can keep them for many months without any problem. However, remember that an exposed films rolls are sensitive. It's better to develop it quickly to limit the risks.
8- Where to develop films rolls ?
Going to the photographic lab
To develop your films rolls, 2 solutions exist. If you are in town or near a town, you will probably find a laboratory not far from your home. The price and the quality of the services can vary between the labs, so remember to compare what each one offers.
Obviously, at every labs you will be able to develop your film rolls to turn them into negatives. But you can also ask them to scan your photography to get them on your computer, or even get papers prints of your photography. In most of the labs, a package allows you to develop and scan a film roll for 10 to 15€ if it is done by machines, and up to 20€ or more if it's done by hand.
Correspondence development
If you can't go to a lab, many companies are offering correspondence development services. In others words, you send them your films, and they will develop them for you, event if you are far away.
But be careful, depending on the lab, they can provide prepaid shipping labels or let you ship it at your charge. And as you can imagine, shipping is an additional cost, so it's a little bit more expensive than going directly to a lab. In addition, if you want to make papers prints or simply get back your negatives, you will have to pay another shipment to send it back to your home.
Correspondence development is a good solution if you can't go to a photographic laboratory. But, the shipping costs can be expensive, so this is not the cheapest solution at all.
Develop yourself your films rolls ?
If the cost is an important question for you, or even if you are just curious, developing and scanning your films at home is possible. In the long term, it can even be very interesting. You will be able to develop and scan your films for less than 2€ and you will avoid the chore of going to the lab.
However, doing everything by yourself also requires a lot of time and a personal and financial investment. For those who are ok with that, you have to know that developing black and white films is much easier and than colors. This is not something I recommend for beginners. But for the most passionate of you, it can be an interesting solution.